Looking for an Affordable Coachella Shuttle?
If you're headed to the Coachella Festival, Xpress Shuttles can help get you there safely, soundly, and, best of all, affordably. Coachella is held every year at the Empire Polo Club in Indio, CA. The festival features a unique combination of music genres including rock, indie, hip-hop, & electronic dance music. We offer transportation from your hotel to Coachella. Our Coachella shuttle options are the most convenient way to see the show. Xpress Shuttles services Palm Springs, Palm Desert, Indio, and more!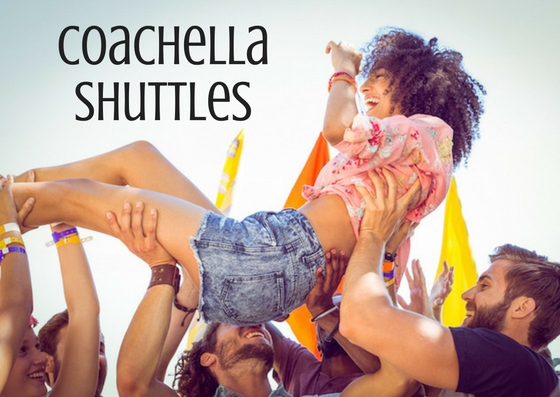 Xpress Shuttles to Coachella
Coachella Shuttles with Xpress are the best travel option for anyone who plans to drink at the festival. Have a good time while you drive safe with one of our shuttles to Coachella. It's more than just festival shuttles. If you're flying in for the Coachella music festival, Xpress provides transportation from local airports to hotels in Palm Springs, Indio, and more. Our airport shuttles to Coachella include LAX,John Wayne Airport in Orange County, Long Beach Airport, LA/Ontario International Airport, Bob Hope Airport in Burbank, San Diego International Airport, and Palm Springs International Airport.
Leave the driving to us, purchase a Coachella shuttle pass with Xpress today. A Coachella Xpress shuttle lets you by pass on not only driving but finding parking as well.
Coachella transportation with Xpress Shuttles is the best option if you're staying outside the regular shuttle routes. The official Coachella city bus only provides pickups and drop offs at the major hotels, but Xpress will pick you up from any hotel in Palm Springs, Palm Desert, Indio, Indian Wells, La Quinta, or Rancho Mirage. Xpress Shuttle is the best option if you're staying at an out of the way hotel/motel, timeshare, or AirBnB. The official Coachella city bus pass also sells out quickly, but Xpress Shuttle is always ready and waiting!
Coachella General Rules
Venue gates open at 11:AM each day
Camping opens Thursday 9:00AM
Coachella Pass must be won at all times
Wristbands void if tampered with or removed
Line up / set times subject to change
Everyone subject to search upon entry
The festival is all ages – ages 5 & under are free
Day parking is free
Coachella Parking Directions
Please read this new information:
Please know that law enforcement will verify that each vehicle's ADA placard corresponds with current DMV registration. In addition, all patrons must have Coachella passes and wear their festival wristbands at all times. Once all is verified, they will instruct you where to park.
Please note ADA parking has moved from previous years. From the 10 Freeway or HWY 111 travel south on Monroe Street to the ADA parking lot labeled "ADA Parking Only" located ½ block south of Avenue 51 on the west side, in Lot 11. Parking is limited. Vehicle processing/line up is not permitted prior to 9AM.
Absolutely no pedestrians are allowed on Monroe Street between avenue 49 and Avenue 52 or on Madison Between Avenue 50 & 52. There is no festival access for pedestrians on Monroe Street. Pedestrian Access is available via avenue 49 & Monroe Street and Avenue 52 & Madison Street.
Remember with Xpress shuttle, you can avoid all Coachella parking. Drop offs/pick-ups are available at the designated shuttle locations. Why stress over parking, when you can relax with a Coachella shuttle?
For all your Coachella transportation needs, call Xpress Shuttles at 866-805-4234 today! Besides Coachella, Xpress Shuttles also provides transportation to the Stagecoach Music Festival.